According to data released by the Shanghai Iron and Steel Association, on January 9, the price of some lithium battery materials fell, the battery lithium carbonate fell by 10,000 yuan/ton, the average price was 492,500 yuan/ton, and the industrial lithium carbonate price fell. The average price fell by 10,000 yuan/ton to 460,000 yuan/ton, and lithium hydroxide fell by 7,500 yuan/ton to 9,000 yuan/ton.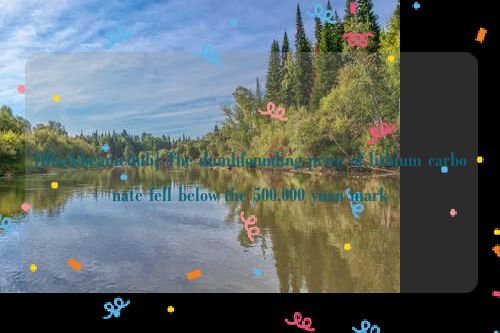 Industry insiders believe that in the future, the demand and supply pattern of lithium carbonate may be in a tight balance, and the decline in lithium carbonate prices is not yet over. This provides huge growth space for the middle and lower classes of the industry.
Falling prices create demand
In fact, from the end of November 2022, the price of lithium carbonate showed a continuous downward trend.
"The multi-day decline in lithium carbonate prices was largely driven by demand-side factors such as subsidy cuts for new energy vehicles, reflecting near-term market concerns about weakening end demand." Company representative Chen Li. The economist of Chuanzai Securities company accepted the "Securities Daily" newspaper correspondent in an interview.
Qu Yinfei, a lithium industry analyst at Shanghai Steel Union's New Energy Division, told Securities Daily: "The drop in terminal production has caused a change in market sentiment, with traders emptying warehouses and moving to lower prices. It's also an obvious trade play." Small and medium-sized enterprises (SMEs) are also selling goods, the market's spot reserves are growing, and the gap between supply and demand is widening, which will continue to drive prices down," he said.
In particular, from the perspective of the new energy automobile industry, the price adjustment of lithium carbonate is inseparable from the adjustment of supply and demand. "Current market demand is not very good," said Han Chang, a senior researcher at Pangoal Research, in an interview with a Securities Daily reporter. Regarding demand in the first quarter of 2023, downstream automakers and battery manufacturers are becoming more cautious in purchasing raw materials, which will lead to a market correction. "he said.
However, with the price of lithium carbonate falling, it is expected that the value of the new energy vehicle industry will continue to decline, creating opportunities.
According to Chen Li's analysis, the price of lithium carbonate has fallen, and the prices of key materials such as anodes, cathodes and electrolytes are also showing a clear decline, so demand for new energy vehicles is expected to recover and increase. . Energy storage could explode in the future, and medium- to long-term growth in the lithium battery sector is relatively high.